Bob Hillary: Simplifying Life
Five years ago, I decided to up sticks and go and explore living off-grid. In the Welsh mountains. In a field. In a yurt. I reached a point in my life where I had had enough.
One morning I woke up – in my high-rent-endless-utility-bills-work-for-the-man-taxes-paying routine – and something just snapped. I remembered my childhood, growing up on a rural organic farm, and a voice deep within me said, loudly, go look for another way. So, I did. 
I bought a small, very cheap piece of rural land in the hills of Wales, and my wife and I moved onto it! I gave away most of my possessions – ALL of the clutter I'd been dragging from rented house to rented house for years – I stopped paying bills and rent, and started living from the land. We collected our drinking water from a spring and lived in a 25-foot yurt, with a wood-burner for heating, a Welsh river for washing in (yes, brrrr, COLD!), a solar panel for laptop charging, and a single lamp so we could see at night in our dwelling. We grew our own veg and got our meat fresh from the local farmer. The locals thought we were nuts, but were amicable and intrigued. And they let us get on with it. Mainly I learned how to connect with the land and the medicine that it carries. 
It was epic. We spent two years living on that land and learned a lot. We learned how to live with very little. It was tough, but it was beautiful. And, most of all, it was incredibly illuminating. It showed me – very clearly – what society looks like from the outside. I saw how we are all living under a dense blanket of Wi-Fi 'electro-smog'. I saw how we all run around trapped in a system that seems to amplify anxiety, fear and panic. I saw how things like mortgages and even technology trap us, and how we often can't see the way out. 
After two years of living off-grid it was time to bring the medicine that I'd picked up on that land back to the rest of society. I had learned so much but the reality was that I was beginning to miss people. Cows and sheep aren't much for conversation! It felt like I had learned what I needed to. So, I upped sticks again, moved back into an actual house and set about integrating what I'd discovered into my 'on-grid' life. I put solar panels on my roof and replaced my oil-fired central heating system with a big wood burner, and I started growing my own food in the garden. I now get around 40 percent of what I eat from my own garden. Home grown, baby! 
Now I travel and live as a singer-songwriter, singing about what I learned in my time off-grid and trying to help others find their own way out of the 'matrix'. And as part of my work I want to offer you this book – as proof that there is another way.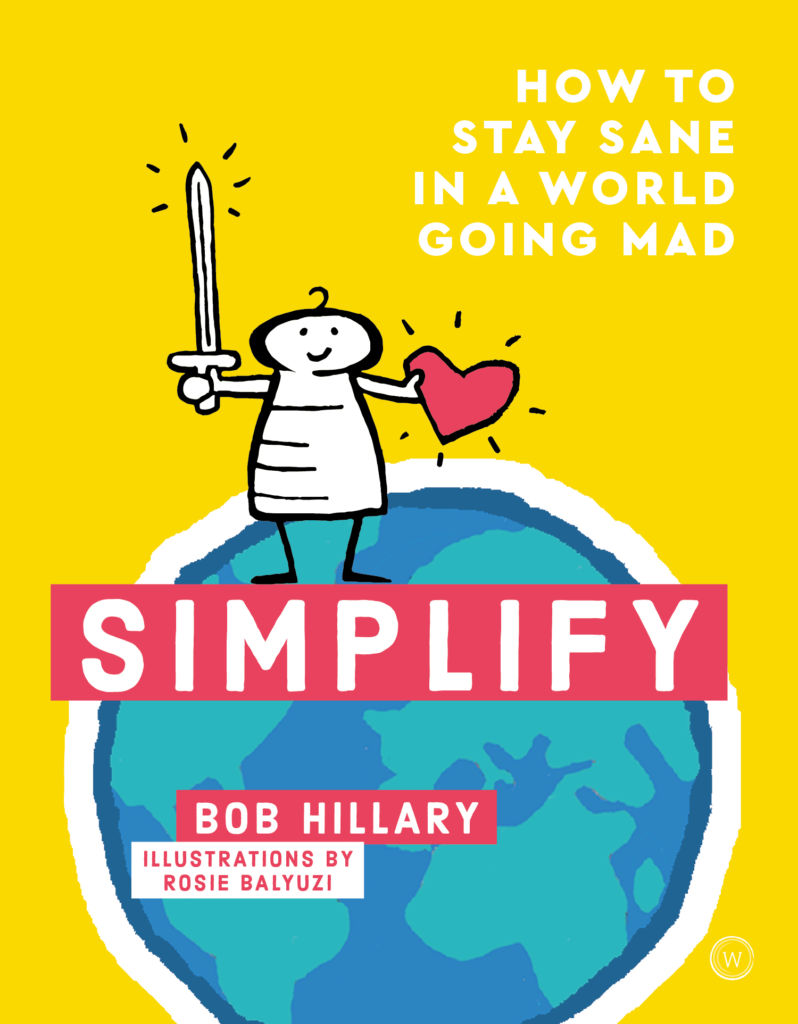 Find out more:
Short, simple and refreshingly practical, Simplify offers 21 Earth Warrior practices to help us live more consciously and to cope with the ever increasing pace of modern life. Bob Hillary shares the lessons he learned living off the grid, exploring his 'wild edges' and practicing a slower, more attuned way of life.