Excerpt: 7 Lessons for Living from the Dying
7 Lessons for Living from the Dying by hospice doctor Karen Wyatt was published on 12th May, and brings together the lessons Dr Wyatt has learnt from her patients over years of care. In her own words, taken from the introduction of the book, here's how Karen found her life changed by a simple phone call.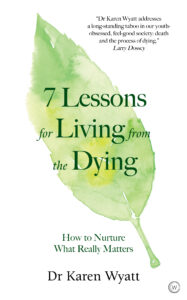 My hands shook as I dialled the telephone number for our local hospice. I was nervous because I didn't really know what hospice did and I wasn't even sure why I was calling. But that morning the intuitive thought to "call hospice" had come to me in such a compelling way that I had to follow through. That inspiration occurred in the exact moment when I was wondering if I would ever find a way out of the deep hole of grief where I had been stuck for three years since the suicide-death of my father.
I hadn't planned out what I was going to say, so when the hospice director answered my call and asked compassionately how she could help me, I stammered, "Uh … I'm not sure … uh, well … do you take volunteers?" After she assured me that they welcome volunteers and even provide training I blurted out, "I'm a doctor."
She paused for a moment then softly spoke, "This is amazing … this is a miracle." She went on to explain that their volunteer medical director had just resigned 30 minutes earlier and since they couldn't operate without a doctor to oversee medical care, she and her staff had been in a panic wondering how they could quickly find a replacement. So the timing of my call was truly a miracle from her perspective and in her mind I was obviously meant to be their new hospice medical director.
However, I didn't see it that way at all. As she spoke I wanted to argue: "No … seriously … this is not a miracle. I'm not amazing. I'm actually a terrible doctor who couldn't save her own father from suicide." But instead I simply agreed to meet her at the hospice that afternoon to sign on as the new medical director.
The trajectory of my entire life changed with that phone call, just as it had shifted dramatically off course three years earlier with a different phone call – the one informing me of Dad's suicide. On that particular day I had not been prepared emotionally, spiritually or professionally to handle the devastation caused by such a traumatic death of someone dear to me. I had been broken apart, plunged into despair and left to flounder in the dark waters of grief ever since, with no hope in sight. I had given up on finding a refuge amidst my sorrow. But that simple phone call to hospice provided me with the first thread of hope from which I would eventually weave for myself a lifeline through the darkness.
Indeed, my subsequent work as a hospice physician provided me with the opportunity to heal my grief and to face my own fear of death as I sat at the bedsides of hundreds of people who were living out their final days. I learned that life looks entirely different to those near the end because the dying process provides a rare backward glimpse of the true meaning of our puzzling existence here on planet Earth.
My lack of preparation for the death of my father was not unusual. Even though everyone will one day face death for themselves and their loved ones, few in modern society have given it much thought. Most people have not put their end-of-life wishes in writing or discussed them with their family members or healthcare providers. Few doctors receive education in end-of-life care and most have not been trained to talk about death with their patients. As a society we are ill-equipped to confront the end-of-life questions that arise in this modern existence, such as:
Should aggressive treatments be used just because they are available?
How much medical intervention is too much?
What constitutes quality of life?
How do we die with dignity?
The point of this book is not to provide answers to these and other challenging questions that arise at the end of life, but to ease the fear of death so that these issues can be considered long before a crisis occurs. Through greater familiarity with death, and its many manifestations, we can learn to live with less fear, more freedom and greater joy. Those who live life fully can face death with less regret and disappointment and are more likely to plan ahead and talk with loved ones about the end of life.
This book focuses on what really matters in life from the perspective of the dying. Their wisdom can show us how to live our best lives now with meaning, purpose and love. As we face precarious times here on this planet we need to learn what it is to live with intention and how to utilize our highest wisdom to navigate difficulties. We can no longer afford the luxury of living in denial of death or pain. Life itself hinges upon our ability to cope with today's challenges right here, right now. Buddha taught: "The trouble is, you think you have time." While death may seem a distant prospect for most of us, we don't really know when it will come. So the time to learn these lessons for our personal lives is now.
This revised version of the book originally titled What Really Matters has been re-launched into the world at precisely this time in history because the message it brings is needed more than ever. From the vantage point of an additional decade of growth and change I have updated the contents to reflect what feels urgent at this time. The only way to make progress in the world outside of us is to first evolve our own inner world and become our best selves. In these pages I will show you what I have learned through the years about living from higher wisdom in order to bring healing and transformation to others and to the planet.
7 Lessons for Living from the Dying is available now, and the ebooks is currently 50% off on our website!