Extract: Standing on my Brother's Shoulders
To celebrate the release of our August titles, we are posting some extracts to give you a sneak peek inside! This is Standing on my Brother's Shoulders by Tara Lal – available now in the US. The book is available in the UK and AUSTRALIA on September 8th (pre-order here!).
Speaking to anyone touched by mental illness, suicide or grief, Standing on my Brother's Shoulders is a powerful memoir of suicide and post-traumatic growth. Through her exploration of resilience, forgiveness and compassion, Tara Lal hopes to change the public narrative around suicide.
---
Chapter 4
I was always worried about being in the way or being a nuisance. I saw the burden on my mum and, not knowing how else to help, I shrank. I did everything possible to avoid conflict, to avoid being seen.
At school, I was the ultimate goody-goody. I never did anything wrong or drew attention to myself. When a teacher praised me in class for being picked to train with one of the country's top athletics coaches I tried to hide my head under the desk. The further I shrank the safer I felt. And the only way I knew how to help was to be good. There had to be a cost for the load my mother had been carrying and continued to carry. She was not only a mother but also a father, a worker and a patient. So many things sucked the life from her, and the space for tenderness became ever smaller.
She battled to stay alive. She turned vegan, and suddenly we were eating raw courgettes and spinach salads. One day I ran into the living room and found her perched on a meditation stool. I just wanted to know where my T-shirt was. She drank carrot juice three times a day until her fingertips started to turn orange and the man in the grocery shop at the end of our road asked if we had a donkey. I just thought it was weird.
It was an irony that my father wanted his life to end while my mother did everything possible to keep hers going.
As hard as Mum fought, she couldn't stop the cancer and it returned as liver metastases.
We went to Wales on a family holiday and, instead of camping, we stayed in a place that provided meals for us. Wow, I thought. This is fantastic.
As always, Mum had driven us there.
'I think we'll stop and have a rest.' She turned to us in the back. 'How would you like a milkshake?'
'Yes please, Mum!'
This is getting better and better, I thought. We were never allowed milkshakes.

In the service station Mum disappeared into the bathroom. We finished our milkshakes and there was still no sign of her. Slowly my excitement drained away and was replaced by a feeling of anxiety.
'Why's Mum taking so long?'
'Your mother is not feeling so well,' Dad said.
'Oh.'
Dad didn't say anything more but he looked worried and that made me scared. We sat in silence.
After an hour or so, Mum reappeared. It was then that I saw how jaundiced and bloated she had become, how thin and brittle her hair. However much she tried, there was no way now that she could hide her illness from us. It was draining the life from her in front of our eyes.

We got back in the car and continued the journey. Mum didn't say anything about what had happened. She never complained, not once through her entire illness. When she had found out that her cancer had returned, she sat down with us and talked about death for the first time. I was twelve years old and all the time I was thinking: What do you mean? You're having treatment; you're getting better. Other people die from cancer but not you. You're my mum. You can't die. You just can't.

I went to school the next day and broke down in tears. They called my dad to pick me up but he was ill himself, unable to do anything for anybody. I went to bed that night and sobbed. Mum heard me and came into my room. She tried to comfort me but she could not reassure me of the one thing I needed to hear: that she would always be there.

At that moment I realized for the first time that maybe it wasn't going to be okay; that maybe, just maybe, the world wasn't a safe place after all. I saw the word 'loss' on the horizon and I tried to push it away behind a cloud. I only witnessed my mum's despair once in the whole time she was ill. My father called us all into their bedroom, where my mum lay curled up on her side. Dad sat next to Mum on the edge of the bed, slumped, resting his hand on her shoulder. I'd never seen my mother like that before. She looked vulnerable. It frightened me.
'Your mother needs to talk to you all,' my father said softly.
'I think I'm dying. I don't want to leave you …' My mother's voice wavered, trailing off.
Our responses said a lot about our personalities. My sister was strong and practical. 'Mum, you have to believe you're getting better. Be strong and fight it.'
My brother stood slightly away from the bed, quietly internalizing it all.
I simply curled up next to Mum and cried.
---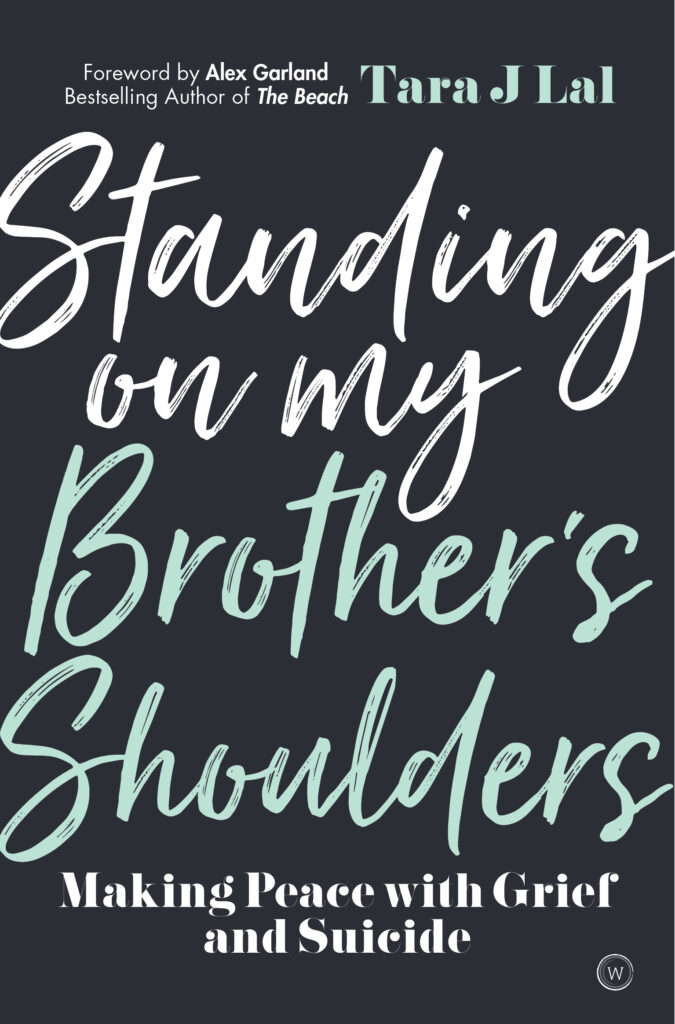 Tara J Lal was born in London but now lives in Sydney, Australia. She is a firefighter and mental health first-aid instructor and is trained in suicide prevention. She is currently a PhD student, her research focusing on the impact of suicide on firefighters. Tara also speaks for and works with various leading mental health charities to conduct research and raise awareness of suicide and mental illness. To find out more visit her website: www.tarajlal.com