Fall Into Light, Fall Into Love
This blog post has been extracted from the upcoming There Is Light and Only Light by Gemma Polo Pujol, the first book from a brand new crystalline voice in the spiritual world.
---
When I was 20 years old, I became a nun in a small contemplative Catholic community. There were just five of us nuns and we spent our days praying, but secretly I was still practising Zen meditation in my room.
It was a really beautiful life: simple food, a structured schedule. The chapel was a little cave under the church with a stone altar. We would wake early, just the five of us, go to the cave-chapel and pray and sing to God.
We would each have different jobs, cooking, cleaning, gardening, making handicrafts to sell to visitors at the weekends. I would paint T-shirts and carve wooden spoons. I sometimes wonder what my life would have been like if I'd just stayed there. But slowly that life started to feel narrow, my inner world felt wider than the way I was expected to fit into this tradition.
My experience of Christ and my love for Jesus and Mary felt clear and profound but I couldn't accept that this was the only pathway to truth. I still love the specific taste and texture of the Christian path. When I find myself in the abyss what comes to save me is Mary's love – she can pull me out of anything. I find it a genius twist of history to make God human, to have him come down to earth as Jesus, and yet even within this tradition we still manage to raise God up again, make it separate, other.
What I was really interested in was the meeting point of all mystics. The place of universal peace where religious war is not possible as there is no separation: love is love and God is God. In every tradition or religion there are people who follow the tradition but don't necessarily have the experience of falling into light. The people who have had this experience of falling into love, or light, no matter which tradition they come from, their experience is the same. The language differs from one tradition to another, and the way of getting there may be different, but the experience itself is the same. What pulls me is the realm where we can all meet. It's not a river that I long for, but the sea.
The spiritual director of our little community was a monk called Marcel, a man with blue eyes and white hair and beard. At a very young age Marcel had become a monk in a large monastery in Catalonia. Later he lived as a monk in Japan and France, following structured and strict traditions. After a number of years he felt the need to live alone. So he moved back to the mountains, near a 12th-century chapel in Spain, and built a little house next to it with a beautiful big window that looks down on a valley.
From Marcel I learned about the beauty in simplicity. There was a great sense of abundance, even though he had very few things. He would lead the mass with so much passion. When he gave us the bread and said that it was the body of Christ, you really felt that it was. So when I started to feel the community was getting too narrow for me, it was Marcel I turned to for guidance. He said: "Whatever makes you free, whatever makes you happy, that is what God wants for you."
That vision he gave me, of God as someone who is the path you envision for yourself, that is the God I keep in my heart.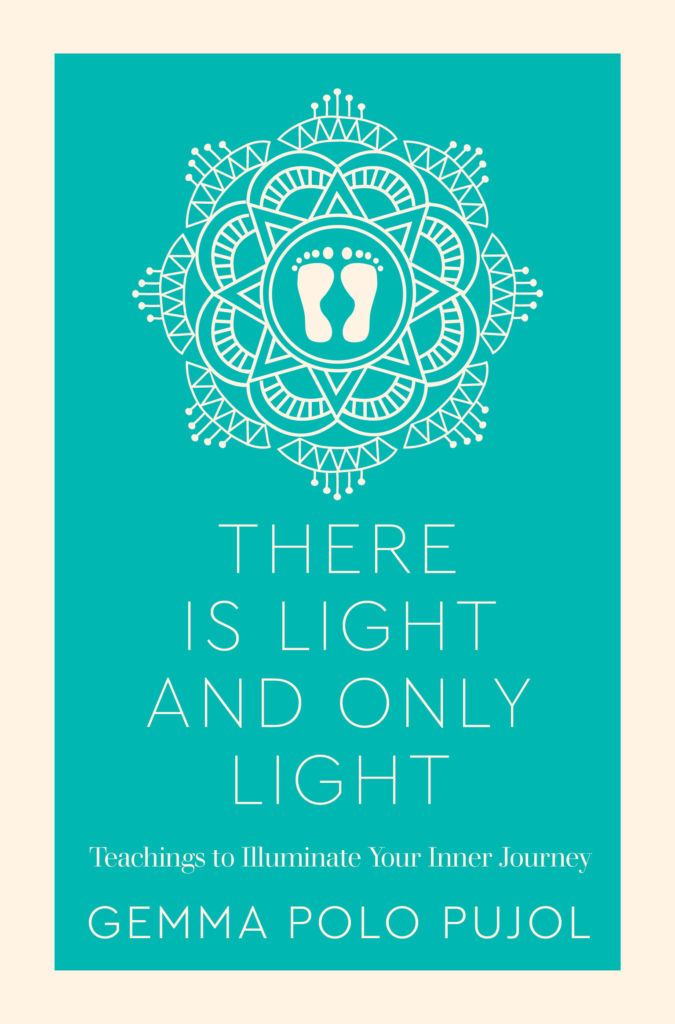 Find out more:
Born in Barcelona in 1976, Gemma Polo Pujol grew up with a fiery love for the Source of everything. Gemma has been teaching meditation retreats around the world since 2002 mainly with Open Dharma, a non-profit organization registered in India, Spain and the US, with a particular focus on women's retreats.
There Is Light and Only Light is the first book from a brand new voice in the form of Gemma Polo Pujol, whose crystalline and powerful spiritual teachings mark her out as the female equivalent of Eckhart Tolle.