Father's Day 2020: June 21st
Read on to see find out some of our suggestions to help you spoil dad this #FathersDay
Let us know what you're reading over on Twitter, Instagram and Facebook.
---
How to Be Comfortable with Being Uncomfortable, Ben Aldridge
Join Ben Aldridge as he offers a selection of strange and wonderful challenges designed to take you out of your comfort zone and into the unknown. Ben shows you that learning new skills, mental and physical, will help you to cultivate a stronger, healthier, more resilient mindset to face your everyday challenges.
Available here in multiple formats.
---
The Wilderness Survival Guide, Joe O'Leary
Joe O'Leary, a successful survival skills instructor, explains the fundamental techniques required in a genuine 'wilderness survival situation' – while at the same time showing you how to enhance any out-of-doors experience, from a walk in the country to an ambitious camping expedition.
Available here in multiple formats.
---
The Self-Sufficiency Bible, Simon Dawson
In today's economic climate, self-sufficiency is increasingly seen as a viable means of taking control of our lives and safeguarding for the future – this is the book that will help every householder do just that. Each of the twelve chapters focuses on key topics for living a more self-sustainable life, with practical information and expert guidance that will make the subject come alive for everyone, whatever their needs, circumstances and resources. This means that the gardening chapter, for example, is appropriate both for people with an urban back yard or a more substantial plot of land. Written in a down-to-earth, engaging and often amusing style, the book will appeal to single people as much as to those with large families, to women who want to be more creative, resourceful and independent, to men who want to rediscover their inner 'hunter-gatherer', and to parents looking to equip their children with basic life skills.
Available here in multiple format.
---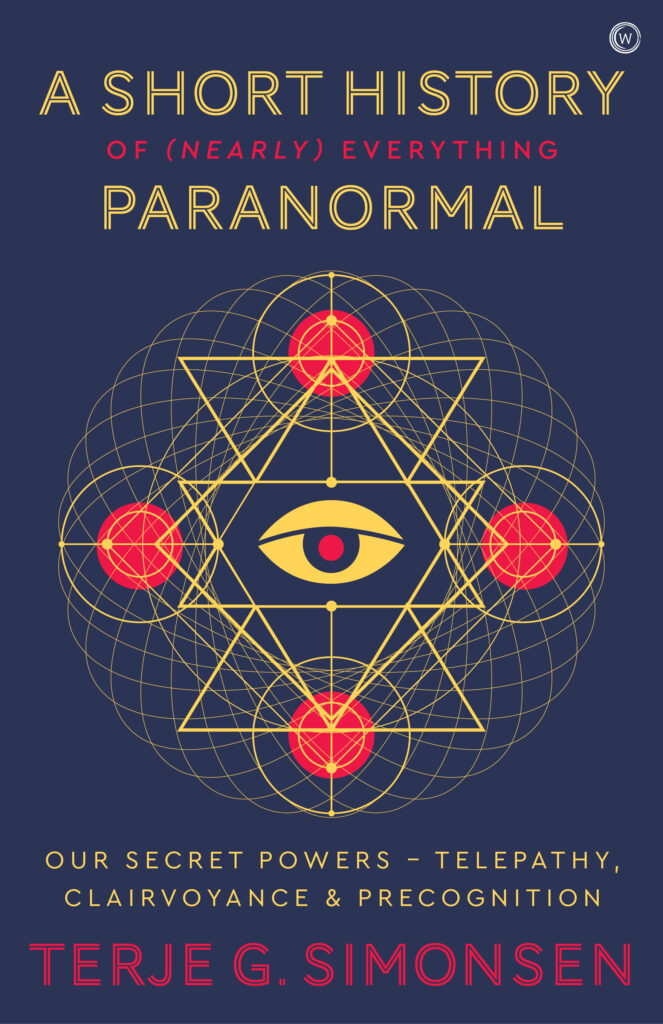 A Short History of (Nearly) Everything Paranormal, Terj G. Simonsen
This is the most entertaining and broad survey of the paranormal ever made, combining forgotten lore, evidence from parapsychological experiments and the testament of scientists, archaeologists, anthropologists, psychologists, physicists and philosophers, and also quite a few celebrities. Exploring the possibility that paranormal phenomena may be and that some most likely are objectively real, this travelogue through the twilight zone of human consciousness is both scientifically rigorous and extremely entertaining.
Available here in multiple formats.
---
Conspiracies, Andy Thomas
This is one of the most compelling and balanced investigations ever made into conspiracies, unearthing every major theory from the political intrigues of the Roman Empire to the scandals of modern times. It covers the New World Order, Donald Trump and Russia, 9/11, the Moon landings, Princess Diana, JFK, mass surveillance, Watergate and much more. The Kindle edition includes an update on all the conspiracy theories that have emerged in the wake of the Coronavirus pandemic.
Available here in multiple formats.
---
Emotional First Aid, Michael James
A short, simple and instantly effective guide to feeling better no matter what life throws at you. With levels of fear and anxiety now running sky high, try these simple meditations, exercises and rituals to counteract your negative self-talk, soothe yourself into peace and calm, and ride the wave of each challenging emotion instead of being overwhelmed. Let Michael James guide you in using this period of enforced lockdown and seclusion to embed the good habits that will support your best life yet.
Available in ebook format only.
---
Simplify, Bob Hilary
Bob Hillary spent a year living off grid, this experience taught him how to live simply. It meant; downscaling, re-wilding, un-teching and finding and doing things that are free. These philosophies provided a framework for the 21 practices he shares in this book. Each one covers the key idea, contains exercises and provides practical ways that will help you become an Earth Warrior. By living this way you will learn how to live in a more joyful, positive, simple and meaningfully way. Earth Warriors give, share and care. This is a manual for modern times, a guide to creating positive action, walking the right path and making the right choices.
Available here in multiple formats.
---