Fitness From the Inside Out: Body, Mind, Heart and Soul
Today we've got an inspiring excerpt to share from Brave, Beautiful and Baring It All, the courageous and compassionate new book by yoga teacher, wellness trainer and social media sensation Rhyanna Watson.
---
Fitness has always been an integral part of my life. For years I thought I was as fit and strong as could be, having trained as an athlete throughout my teenage years and competed at a national level in water polo, swimming and also track events for the state of Tasmania.
Looking back, I took immense pride in my level of physical fitness and how it allowed my body to look. But as I got older and started to experience more of life's inevitable challenges – and particularly after my depression and resulting suicide attempt in 2014 – I began to realize that fitness is by no means only about physical exercise and keeping your body in good shape. Instead, fitness begins on the inside, with our minds, hearts and souls, as it's here that we need to build optimal strength, stamina, flexibility and resilience in order to sustain a happy body, whatever that may look and feel like for you, and deal with everything that life throws at us.
Creating fitness from the inside out means looking inwards, exploring what we're really about at the core, and learning to choose the beliefs, behaviours and actions that best serve this. It means letting go of past and current societal conditioning – beliefs we have inherited from around us that might be holding us back – and instead choosing to believe in, show up for and invest in our own dreams, once we've figured out what they are, of course! We can't change the world around us without first winning any wars taking place inside.
One of the keys to getting fit – whether on a physical, mental, emotional or spiritual level – is self-discipline. While self-discipline can feel like a difficult concept to many, really it's just about self-love, which is central to bringing about any meaningful change and a sense of achievement in your own life. It involves shifting your focus to do whatever it is that makes your heart come alive, and making the compassionate choice to dedicate yourself, your time and your energy to you and your innermost dreams.
When we commit to ourselves, we commit to any change we want. It was only when I hit rock bottom that I realized nobody could save me except me – so I'd better start investing in myself! Only then did I find yoga, teaching myself at home on my mat amidst the chaos of motherhood and daily life. It took five years of discipline and hard work to get where I am today, but, boy, was it worth it.
My yoga practice – and the sense of focus and purpose it gave me – ended up turning my life around, and it still excites me every day. Many people who follow me online ask me why I practise and teach yoga as part of my fitness programmes. It's important to realize that, although the sometimes impressive-looking physical poses are the visible element of a yoga practice, it's not about the poses alone. For me, the focus is more on the flow of the breath, which acts as a tool to calm the thoughts and bring the mind – and therefore body and soul – back into balance. The word yoga actually means "union", hinting at its underlying aim of bringing about a sense of harmony across mind, body, heart and soul.
As I mentioned earlier, I feel that yoga literally saved my life when I started practising it as part of my recovery after the attempt on my own life. Being so far away from family with a new baby was tough – especially in a culture that felt not only so different from home, but that was also very restricting for Western women. So I decided to channel my pain into a goal of developing better strength and flexibility. To achieve this, I signed up to an online yoga course to learn handstands. This started out as a purely physical thing, but soon became so much more as I experienced the breath and movement connecting my body, mind, heart and soul, creating a deeply healing and transformative practice in which I felt everything was okay again. This sense of feeling at one with myself was incredible.
I started experiencing my senses again after years of having felt numbed by the trauma and pain of past abuses. It was as if the flow of the breath and movement had woken me from a dream, or rather a nightmare. I started to see, accept and love myself again, and the physicality of the practice, combined with the sense of internal calm and space it gave me, encouraged me to start embracing my full sensuality as a woman rather than hiding from this and trying to fit into society's often one-dimensional definition of how female beauty is "meant to be". Now, here I am, a few years later, doing more than I ever dreamed and feeling happier than ever before. So I'd like to share this gift with you – so that, together, we can continue to learn, grow and thrive.
Find out more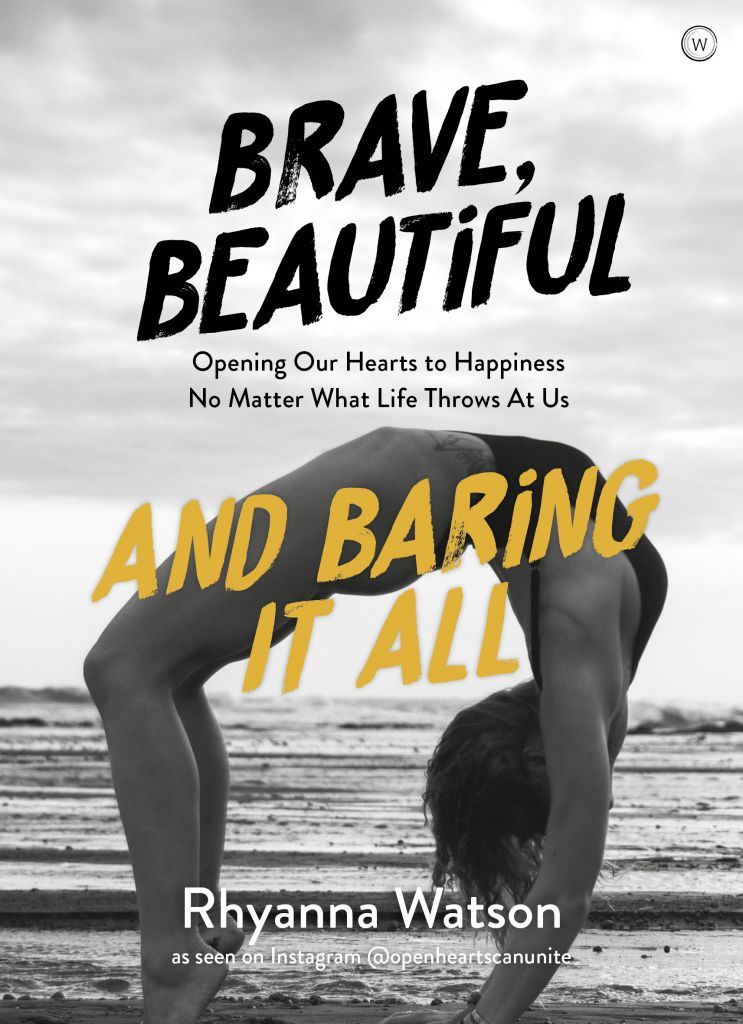 In this bold, compassionate title, yoga teacher, wellness trainer and social media sensation Rhyanna Watson – who has come out the other side of a lot of personal trauma both stronger and happier – explores how to strip back your protective layers, feel brave and beautiful again, and make the rest of your life the best of your life.
Brave, Beautiful and Baring It All: Opening Our Hearts to Happiness No Matter What Life Throws At Us (9781786782892) is available now.