Five Questions with Divya Kohli, author of Finding Peace in Difficult Times
Finding Peace in Difficult Times is published this month, offering grounding techniques which are particularly helpful to everyone experiencing fear, loneliness and overwhelm in response to crises. It provides practical, in-the-moment tools to promote resilience and self-compassion. Today we're speaking to author Divya Kohli to really get to the heart of the book. And if you're intrigued, it is available to buy now.
1) What inspired you to write the book? 
I was actually working on a novel. A second novel to be precise. (The first one hasn't seen light for a while, I suspect the same will be true for the second). I grew up with delusions of becoming the next Thomas Hardy meets Rabindranath Tagore, in Virginia Woolf form. Perhaps hitting middle age was what blew that delusion apart, as I sat one morning late last year and began writing, and writing – what was to become this book. A non fiction gathering of tools, advice and wisdom that I had picked up over the last decade or so, through work, life experience and observation.
Beyond my personal development from writing stories and loving epic tales to being drawn deeply into philosophy, spirituality and timeless ways of wellbeing, what really inspired me to write Finding Peace in Challenging Times is that I truly feel it's needed. Everyone I know(whatever their background) is feeling the overload and overwhelm of this fast and complex modern time. This is accompanied with a sense of "I am going with it".. but I wish I could be more present and centred, and live with more peace. There is tonnes out there, in book form and on the internet, as well as courses and experts, advising us on how to be present, let go of anxiety and 'be in control'. But I suppose through my own journey, personal and professional, things had come to light in a way that I hadn't found elsewhere. Now seemed the time to share that, and if it helps (truly helps) even just one person have more peace in their life – then my job with this book is done.
2) You're a yoga teacher – has that influenced the book much?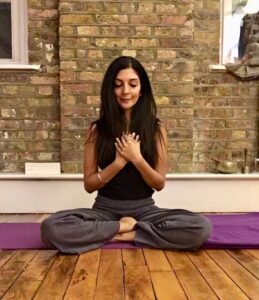 Yes. I'm sure it has. Yet this is not a yoga book by any means. There are bigger picture ideas and concepts about life and the human experience in this book that are either influenced by or shared with teachings that you would find in ancient yogic texts and philosophy. For example, the idea that 'we' are made of a mind, a feeling body, a physical body, an intelligence beyond the thinking mind and something beyond all of that (which some people call 'spirit').
I do teach the postures and 'body practices' that we nowadays refer to as 'yoga' (that's a whole other debate and blog post). But for me, Yoga (capital Y) is a much broader and deeper way of being and seeing life. I'm still a novice on that front, by the way.
On the more day to day level, through my work as a yoga and meditation teacher I have come into contact with people of all ages and backgrounds, in different environments too, and across a good chunk of time (a couple of decades). While each of us has our own life path, 'problems' and experiences, my life as a teacher in a bustling and sprawling metropolitan city (London) has shown me the universality of the challenges we face, the feelings we have, and… the possibilities of managing and maybe even turning them into something beneficial. To borrow a saying… life challenges are 'grist for the mill'.
3) What was your writing process like? Did you write at certain times of day, or in a particular place? 
I open up a word doc… and type. That's pretty much it in terms of the nuts and bolts. I save the word doc after each writing session. And after I've 'done' a few of those, I revisit and edit.
​When I was trying to be the next Hardy/Tagore/Woolf (please don't hold back your giggles), I experimented with various 'writing routines' and used up any time I could get off work to 'run away' to the countryside (or a Greek island) just to write. I came at it with the view that 'put me in the right environment', I will not only write, but ah… be inspired and in flow. I searched for writing groups and considered applying for courses in order to enforce a discipline. I did join various groups, but stayed with none as in the end they distracted me from.. writing! Be it the London scribblers in a pub, a cute cottage in the Cotswolds, a Florentine apartment, or a room at the British Library, I realised that environment wasn't the key. Or should I say, the environment became another obstacle to me going 'in'.
I have come to realise I love silence, peace, my own company and a comfy chair. Give me those conditions, and I'll probably write.
4) Do you have a favourite chapter or section of the book, or part that was your favourite to write? 
Oh what a fun question… hmmm. Sorry to not play ball, but I don't have a favourite chapter. What I do love is the interplay and mix of real life stories, spirituality, philosophy, science (yes, robust science!) and everyday common sense. I hope that blend comes through – and in an enjoyable way to read. I've never been a specialist…much more a generalist, and realised that through writing this book. I reckon a lot of us are like that – we want to understand how and why things work, but we also like to hear or see it happening 'for real' and in ways we can relate to. So, Finding Peace in Difficult Times has spiritual things in it, but it's not a spiritual book. It has mindfulness in it, but it's not a mindfulness book. (A bookseller's nightmare, sorry!).
5) Finally, what is one thing that you hope people will take away from reading the book? 
​That they trust their capacity and inner knowing to see themselves through life's ebbs and flows. 
Thank you very much for joining us, Divya! Finding Peace in Difficult Times is available now.