Four Crafty Ways to Celebrate Samhain This Year
In the Celtic calendar, Samhain is a season to acknowledge the spirit world and our loved ones and ancestors who have passed into the otherworld. Taking time to make crafts that honour our grief and losses, as well as honouring the fertile darkness within our own psyches, can be very liberating and healing. Here are some crafts from The Magical Year by Danu Forest to help you celebrate!
Create a magical scrapbook
You may like to begin compiling a seasonal scrapbook to record your celebrations and experiences of nature. Consider including photos and drawings, as well as collected items, such as leaves, flowers and seeds.
You might like to write pieces of prose, poetry or songs to add, or copy down examples by others that inspire. You could also include notes on seasonal rituals and magic, or any visions or images you receive in meditation.
This is an opportunity to indulge your inner child, as well as creating a way of remembering and maintaining thankfulness for the earth's gifts and your own spiritual journey. You might decide to make this a simple personal project, perhaps a detailed magical diary, or do it together with your family, as you choose.
Build a Samhain altar
This, the first of the winter festivals, honours the animal cull, the dead and the world of spirits, so decorations of stones, bones and interestingly shaped sticks and twigs are all suitable objects for your altar, as are the colours black, white, purple and green.
Decorations of natural objects, such as pumpkins and gourds, dried seedheads, nuts, sloe berries and antlers, all give the right feel. You may decide to create a sombre-looking altar or space, or go for a wilder, underworld/faery feeling, with moss and ivy wreaths. It's a matter of choice, so go with what really calls to you to honour this Samhain.
Construct your very own wicker man
You may like to make a wicker man filled with herbs, petitions, prayers or spells to transform any negative feelings or circumstances and ask for the things you wish to come to you in the following year.

Many people make wicker structures filled with fruit, vegetables and grains to burn as an offering, and it is perfectly possible to make one out of twigs or straw, in any size you find practical.

You will need
• About 15 sticks or twigs, approximately 30cm(12in)in length
• Red cord or string
• Pen and paper
• Pieces of ribbon
• Herbs – juniper, mugwort, rosemary or sage
Take six sticks and form into a bundle. Use the cord or string to tie the bundle three-quarters of the way from the top to form the head and the body below it, and again quarter of the way up from the bottom, by wrapping the cord or string around and then tying in a tight knot.
Then tie together another bundle of three sticks and place it just below the head as a cross piece to form the arms. Lash onto the main stem. Legs can then be added in the same way, by tying two bundles of three sticks each at their tops, and attaching them around the waist area.
Write spells or petitions on small pieces of paper. Insert these, with herbs, into the wicker man, also tying on pieces of ribbon, as offerings and prayers.
Do this all with as much magical intent and care as you can, holding the wicker man in your arms and really putting as much energy into it as possible.
This can then be burned upon a Samhain fire, or placed somewhere secret, preferably by the hearth.
Finally, thank the wicker man for his help, and, when you are ready, and it's practical, burn him safely, seeing the smoke sending your magical intentions out into the spirit world.
Bake some soul cakes
Soul cakes have their roots in the offerings made to the spirits of the dead in pre-Christian times. By the 19th century, they were a form of alms offered to the poor and to children, who would pray for the dead or sing songs on All Souls Day on 1 November. This cake would be given to them in thanks.

You will need
• 375g/13oz/3 cups self-raising flour
• 155g/5½oz/¾cup caster sugar
• 2 tsp ground nutmeg
• 2 tsp ground mixed spice
• ¼tsp salt
•185g/6½oz/¾cup butter
• 125ml/4floz/½cupmilk
• 1 egg
• 90g/3oz/⅔cup sultanas (golden raisins)
• 90g/3oz/⅔cup
Sieve the flour, sugar, nutmeg, mixed spice and salt into a large bowl, then rub in the butter until the mixture looks like breadcrumbs.
Make a well in the centre and add the milk and egg, mixing well to combine. When you have a smooth batter, add the sultanas (golden raisins) and currants, and stir gently to combine.
Spoon out onto the baking sheet to make 12 scone-sized 'cakes' and bake in a preheated oven, 220°C/425°F/gas mark 7, for 10–15 minutes.
They should have risen well and be a light golden colour when done.
Before eating them, you might like to share the following traditional soul cake song:
'A soul ,a soul, a soul cake,
Please good missus a soul cake
An apple, a pear, a plum or a cherry,
Any good thing to make you merry.
Up with your kettles and down with your pans
Give us an answer and you'll be gone
Little Jack sat on his gate.'
---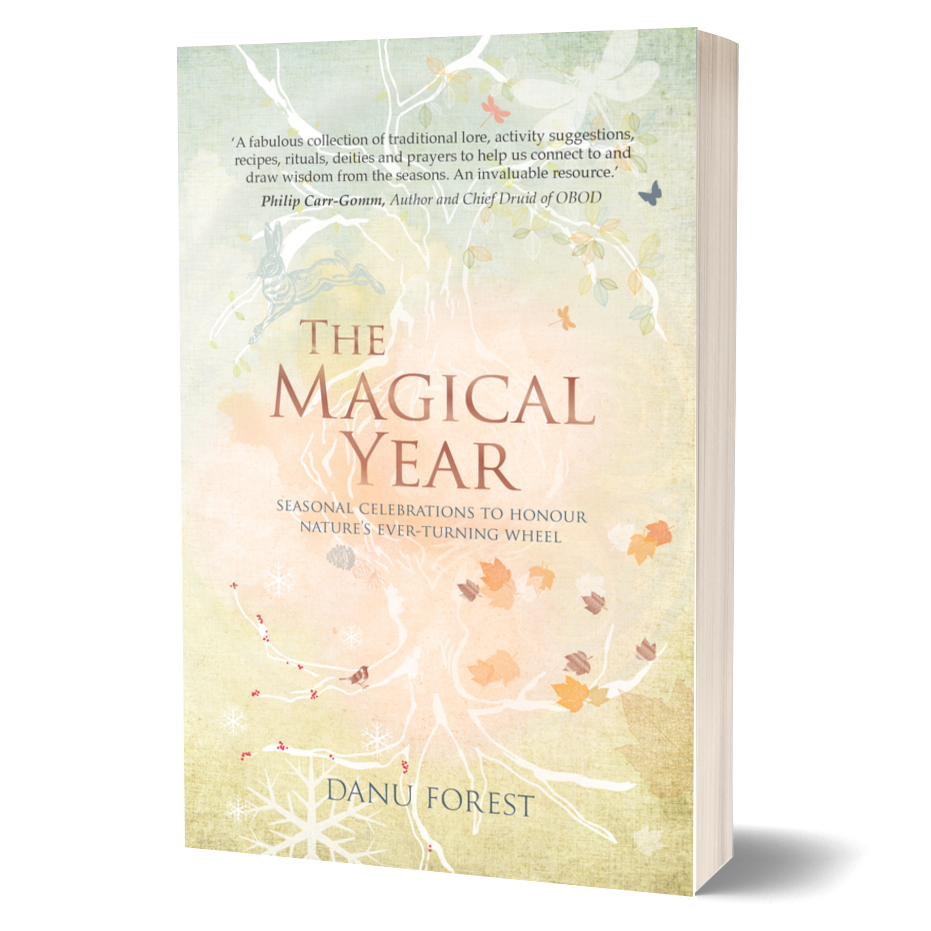 The Magical Year by Danu Forest
A modern-day exploration of Celtic spirituality, folklore and traditions interwoven with practical crafts, recipes, spells, ceremonies, guided visualizations and meditations in a season-by-season celebration of the eight festivals of the Celtic Wheel of the Year.
The Magical Year is available to purchase in multiple formats here.