How to Be a Business-Like Artist
Most productivity advice you'll find in the soft business section simply does not work for creative people. But does that mean that as a creative, you're on a completely different path to the traditional businessperson? As the bestselling author of Banish Clutter Forever and new Watkins Publishing title Organizing Your Creative Career (14th January 2020), Sheila Chandra is our resident expert in all things organisational. Here, she explains why embracing a businesslike attitude may be one of the best things you could do for your creative career.
---
Most serious artists know they need to be business-like – and yet they worry about losing their creative souls; the very thing that drew them to being an artist in the first place. How do you balance the two?
Fortunately being both and artist and business-like are not mutually exclusive. You just have to know how to protect your creative process and development. You have to know not to promise anything that would interrupt either of them in the first place. Once you have a good handle on how your creative mind works, being business-like is just a matter of heeding the following tips.
Serious artists understand that being business-like is essential
Okay, you're an artist – that's not just what you do, it's what you are. I understand. And you don't have to give that up. But too many of us find 'business-speak' puts us off the whole idea of being both an artist and business-like. We instinctively recoil against the business world's way of doing things. This is a mistake. It's important to remember that we operate in the commercial world. That means that we have to have at least a business-friendly 'interface'. A way of working that's compatible with the business world, and that will build confidence in the business people we work with.
Serious artists see being business-like as good customer service
So much of being business-like is simply good customer service – or good client service. That means:
being reliable
sticking to deadlines
getting back to people within a reasonable timeframe
having a professional manner and being a pleasure to deal with
being a person of your word.
Each of these is important if you want to engender trust in the people you work with. And doing that is important because those people will spread the word about how you are to deal with – either good or bad.
Serious artists steal ideas from how businesses operate
There are some distinct advantages to being both an artist and business-like. Businesses are typically great at strategy – something that artists need to employ throughout their careers. And you can steal those strategies to enhance your career. So, instead of getting continually caught up in your creative process you should regularly take time out to look at the 'big picture' and consider issues such as:
how to market yourself more effectively
defining your brand identity – the thing that's going to make you stand out, and be easy to sum up for journalists
how to grow your income
how to gain the kinds of commissions/jobs in the areas you're most passionate about
new areas you want to break into – and how you can take steps to do that
how to diversify income streams without diluting your brand
how to take steps to avoid the problems you commonly encounter – so that you spend less time 'fighting fires'
how to build your platform – as this will increase your negotiating power
how to plan your work calendar up to a year in advance so that it's efficient – e.g. only making outdoor murals in the summer when the days are long, and working on a studio show in the winter.
Being an artist and being businesslike isn't going to hurt your creative process
Many creative people of all kinds worry about being both an artist and business-like because they fear it will limit their ability to come up with ideas or find a work rhythm that enhances the way they work. This is something that particularly affects young artists who are not yet confident in their vision and their ability to come up with the goods to order – and who can blame them? Inspiration doesn't just turn up when bid. You can help yourself to feel confident about creating to order in the following ways:
Keep a creativity diary – journal when and what helped you to work at your best.
Keep working on your skills – putting in the hours will build your confidence
Keep a productivity diary – so that you know when you're best at desk work and strategy.
Ring fence creative time – so that you're not interrupted.
Always allow a couple of buffer days on any project deadline.
Under promise and over deliver.
Stay true to your vision – stay as powerful as you can business-wise so that you're able to protect the integrity of your projects.
Doing all this will allow you to take the best from the way businesses operate and allow you be both an artist and business-like, confident that your professional creative career is both safe and well balanced.
Find out more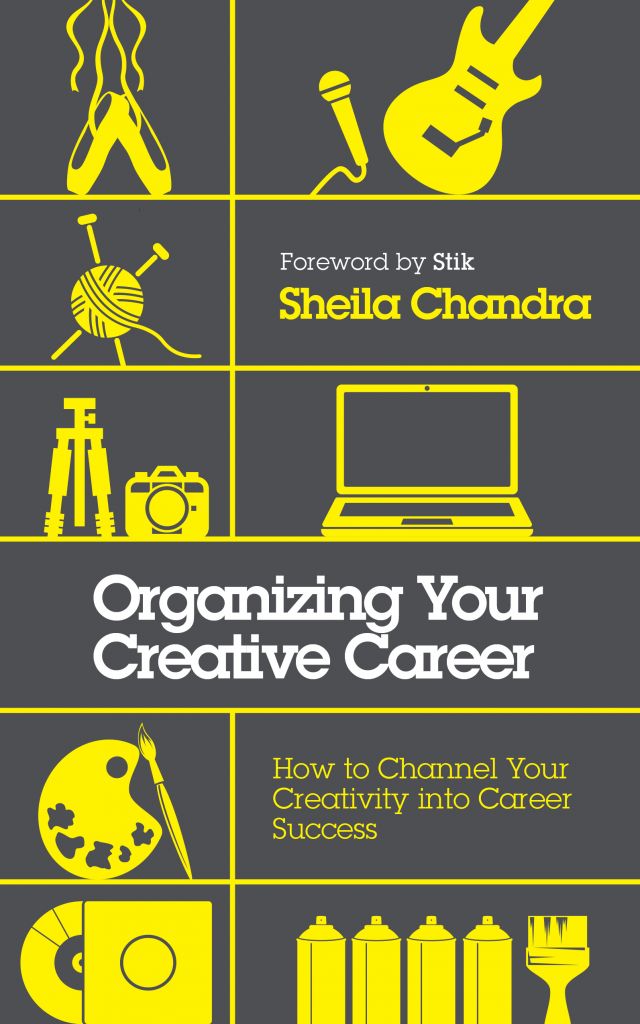 Surprisingly, to date there has not been a single book that addresses the unique organizational challenges that artists face. This book sets out to change that, addressing the myth that truly creative people are messy and that they need mess in order to create. Sheila Chandra applies her professional insights as a creative and organizing expert to the lives of other busy creative people in all disciplines showing them how good organization can liberate their creative magic.
Organizing Your Creative Career: How to Channel Your Creativity into Career Success is available from 14th January 2020.