Irreconcilable Differences – The Consequence of Having Different Essence Types
– by Matthew Campling
One of the reasons why I am so enthusiastic about the wisdom and information available to us in the 12-Type Enneagram is the beneficial result to my psychotherapy clients, both as individuals and in couple therapy. I will look at a couple of examples, and of course I've changed the specifics to protect the identity of the individuals.
Any successful relationship requires a number of positive aspects for it to work. If you have two people with different essence types, they will think, feel and behave differently, and never understand how the other is behaving. Thus 'irreconcilable differences'. But the sad fact, sad because so many needy couples don't understand the 12-Type Enneagram yet, is that the system not only identifies individual's different types, but also provides the means for overcoming the limitations of a particular essence type.
Helen and Bob. The couple sat together on the couch, but it was evident they were jumpy in each other's company. Bob kept glancing sideways and Helen's mouth constantly wore a frown of displeasure. Helen was angry because Bob wouldn't stay home every night and keep her company. Bob was anxious and tense, tentative with his opinions, looking first to Helen for approval. In terms of essence types, Helen is a Mars type and Bob a Mercury type.
Since these two are the two moving types, the couple do have things in common. But Helen's Mars type boldness and fire has been attempting to control Bob's mercurial energy, his endless dinners and drinks with friends that Helen feels left out of. Having identified their types, Bob was encouraged to go towards the next main type, Saturn, the deep thinking energy. Here he saw profoundly that his thoughtless time filling was unfair to Helen. Helen was encouraged to think about her next essence type, the Jupiter type, defined as 'the nurturing parent, always benevolent'. With a deep sigh Helen let go of her fiery anger and found a sense of compassion for her partner. Once the couple were aware not only of their 12-Type Enneagram essence types, but how they were different from each other and what they could do for themselves and the other. Instead of years working through individual strands of behaviour, understanding their essence types provided all the answers.
A similar process occurred with Donny and Joe. Both men were identified as Venus types. The slow-moving Venus type is interested in beauty, in colour and always being perfectly dressed. In fact this is what brought the two together, they are both models. The problem was that being the same type, defined as 'the languorous lover', nothing ever happened. Both men were 'passive' when it came to making decisions. They would spend whole evenings looking at each other, barely speaking and neither wanting to take the lead.
Once the similarities in their types was explained, and both discovered that for each of them, consciously moving towards fast-working, organised Mercury type was the best solution, they began to shake things up in their relationship. They began keeping lists and making proper diary dates. They also benefited from learning about all the 12-types, so they could deliberately access, for example, creative Lunar type energy or dynamic Mars type.
Click here to read A Simple Means to Identify your 12-Type Enneagram Essence Type.  
About the Author: Matthew Campling (MA Psych, BA Hons Cllg) is an accredited psychotherapist who has run a private therapy practice for nearly 20 years. He has facilitated workshops
around the country. He is the only person qualified to present the 12-Type Enneagram in the UK. Matthew is the author of two health-related books, Eating Disorder Self-Cure and Therapeutic Weight Loss, and has had seven plays produced. He has written articles for GQ magazine, The Independent and Therapy Today. He was a regular guest expert on ITV's Trisha and is a popular media spokesperson for magazines and newspapers, radio and television.
Find out more on Matthew Campling's website-  www.12egram.com, and on the various YouTube videos.
If you have any comments or questions you can contact him at campling.m@gmail.com.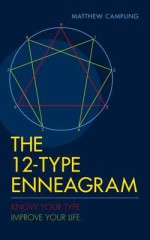 Matthew Campling
The 12-Type Enneagram
ISBN: 9781780288185
£10.99
Sign up for our newsletter to get an exciting series of podcasts, keep updated with our events and read new articles from our authors.