Quick Tips for Making an Effective Workspace
As Team Watkins adapts to working from home, we've turned to Organizing Your Creative Career by Sheila Chandra for some quick tips on making a great workspace, no matter what kind of place you're in.
Create Mini Workstations
Set up efficient workstations around each of your most common tasks, where everything you need for that job is close by. If you can simply reach for what you need without thinking, your workspace feels as though it supports you. If an item you need is literally within arm's reach, then you'll almost certainly put it back in the same place automatically. That means no tidying up – not ever!


Pause During Longer Projects
If you need to leave some materials out overnight in your work area during a longer project, take advantage of the pause in your work to mentally pat yourself on the back over what you've achieved so far, while you tidy any small bits that you can. This will help motivate you through the long slog of a difficult project, and give you more clarity and focus as you go. Additionally, you'll come back to a fresh and clear space the next morning.


What If Your Workspace Is Already Full of Stuff?
If there isn't already room for you to work, make some. Take the time for a bit of a clear up now, as it will make you more efficient later. Look at your furthest away boxes or piles – this is the stuff you're least likely to need, so you can purge a lot of it, making room for the things that need to shift out of your new workspace.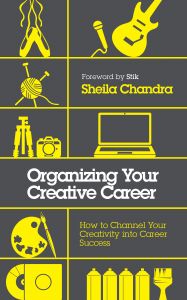 For more tips on getting organized and motivated, particularly if you work in a creative industry (or would like to), check out Organizing You Creative Career – and remember, there's currently 50% off all ebooks on our website, when you enter the code 'shelfhelp' at the checkout!
Keep an eye on our social media pages for activities, meditations and inspiration to keep you going through quarantine, with new things added every day as part of our Shelf Help initiative, and follow #shelfhelp50.