Rediscover the Joy of the Natural World
21 Rituals to Connect with Nature by Theresa Cheung, Krysia Newman and Alexandra Wenman contains simple, easy daily rituals to help you tune into the natural world around you, helping you to feel more grounded and connected to yourself and others. Many of the exercises can actually be done inside, and despite the continued social distancing measures in the UK, Krysia Newman reflects on how she's still being inspired by our amazing world.
Who would ever have thought that when I first started chatting with Sunday Times best-selling author, Theresa Cheung about collaborating with her on her latest book – 21 Rituals to Connect with Nature – that it would eventually be published in the midst of a global pandemic! 
Many of the rituals within the book can be performed indoors. Our thinking was that some of these rituals would benefit people who were unfortunately unable to leave their homes – perhaps due to caring responsibilities or illness. Now, in lockdown, it seems that these rituals are needed more than ever.
My heart goes out to those affected by Covid-19 and their families. My only hope is that as we start to move forward, we can retain some of the positives that have presented themselves throughout this process.
Because there have been positives.
Our families have come closer together, relationships have re-set. Many of us have had time to 'go within' and to reflect. For many, re-connecting with nature has been a saviour.
I have always connected with nature through walking and I am fortunate to live within three minutes of our local woods. But during the lockdown my husband decided to dust the cobwebs off our old bicycles, have them fixed and venture out. It's been three years since they last hit the road and so we were a little anxious to say the least!
It struck me, as we wobbled around on our newly refurbished cycles that I was seeing so much more than I would have done from my motorised tin can. Even this small change in my perspective has altered my view of my local area.
There were so many other road users – cyclists, joggers and walkers and all of them greeted us with an enthusiastic good morning and a smile (some of those smiles may have been sympathy nods due to our snail's pace pedalling).
I became aware of the strength of the sun beating down on me (we have been so lucky with the weather lately haven't we?). We only actually made it to the local Co-op and then onto a local woods for our picnic but as we laid there surveying the beautiful surroundings I was in awe of the eternal blue sky and wispy clouds that seemed to call out to me – in my mind I started to create shapes out of them. For a while I was lost in the beauty of it all.
The ever-changing clouds are in many ways symbolic of nature. Our natural world is also in a constant state of flux; no sunset or sunrise is ever the same, every dawn chorus sings a different tune and every flower glows differently in the daylight. All we have to do is become aware of our surroundings and start noticing.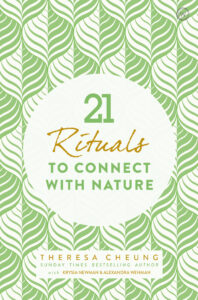 Science has shown us again and again that when you become aware and mindful of even the smallest details of our natural surroundings it can significantly enhance our wellbeing. Of course, most of us don't need the science to tell us what we already know but it's nice to have it confirmed!
To be honest, that's really the most I could have hoped for the book – that we change mindsets; even in a small way and encourage people just to stop and notice nature.  
21 Rituals to Connect with Nature is available now, in both ebook and paperback.