Retreat Into Vulnerability and Love
This post has been extracted from Gemma Polo Pujol's There Is Light and Only Light, available now.
---
A retreat situation is a great place for vulnerability, a place to become transparent, to be touched by things, all these things that we don't usually allow. We are suddenly placed in a situation where we don't have to struggle for survival, where we don't have to pretend, where we don't have to put walls between other people or things.
On the one hand it feels scary to let down the walls, to start feeling again. We may feel shy to walk barefoot on the sand or on the grass. If we fully enter this world of sensitivity, everything becomes so intense. Finding the pleasure of connection to that which we belong, to something as deep and precious, for example, as nature. I remember as a child in Barcelona taking secret streets to school. I would play in these narrow secret streets where I could just touch the trees and look up at the sky without being seen. Even as a child, I had a sense of this intimacy being forbidden. How freeing to just take off these clothes and do it anyway.
It's as if we are tuning into the pleasure of everything, becoming sensual – and that feels forbidden. But we can recover the intimacy which somewhere we remember, which we are made for.
Through resting deeply, not only joy, but also sorrow may surface, and it's important to know that this is normal. Often, especially on a silent retreat, we can think we're the only one suffering, or with bad memories surfacing. The bubbling up of patterns and traumas from the unconscious is common, and it is important to hold everything that emerges with loving hands. If we can simply let it bubble up, without judging, this movement in itself is already healing and liberating.
It was only when I started leading deep rest retreats that I realized that the unconditional love I received from my parents is not so common. I feel so grateful for the unconditional love and support that my mother has given me all my life. We are very different, but she always encouraged me to do what I loved, even when she didn't understand it or disagreed with it. When I was 18 and first got involved with a woman, I didn't want to keep it secret from her. I remember we were at a train station, about to get on different trains, and I wanted to tell her, but the words were stuck in my throat. She started getting worried that it was something terrible, that I had some life-threatening disease. When I finally managed to tell her that I was a lesbian she was so relieved. "I will support you," she said, "with whoever you want to love and however you want to love." My mother's love has been a soft hand, always warm and present through the curves of life.
On my retreats there is always space for people to speak to me one-to-one if they wish. People come from all over the world and they carry so many different life experiences and traumas. I see my job as passing on, with words or energy from the heart, this love for the ultimate. My job is to talk about the possibility of living with fulfilment and joy, to remind people of the sacred, to embrace everything within, and when they feel lost to look up and ask for help. They come and they see someone who has chosen another way of life. In the same way when I first saw St Francis of Assisi in Brother Sun, Sister Moon and it illuminated my reality, it made something possible.
My vocation is to talk about the human right to spirituality, how we own that right, and how it should not be foreign to us to look inside and find this peace. A big part of what happens on retreat is that people can be brave because they are all there together, other people are daring to do it too. Sometimes, there's a vibration in the meditation hall, when something magical happens and I feel as though I am a mother embracing everyone.
I find very moving this deep trust that they put in me and each other. They come and they give themselves fully, they commit to be in silence and, even though they don't know me, they share with me so deeply. So many people have talked about being abused, being put down again and again by their own parents, about so many painful experiences. I feel the beauty of just listening and holding that. I see through the words, see their souls, and I know, much more than they do, that they are held, that they are loved. To bring people into this experience of being loved is the highest teaching I have to offer.
It is this sense of being loved and being held that encourages people to keep finding their way, even in the dark.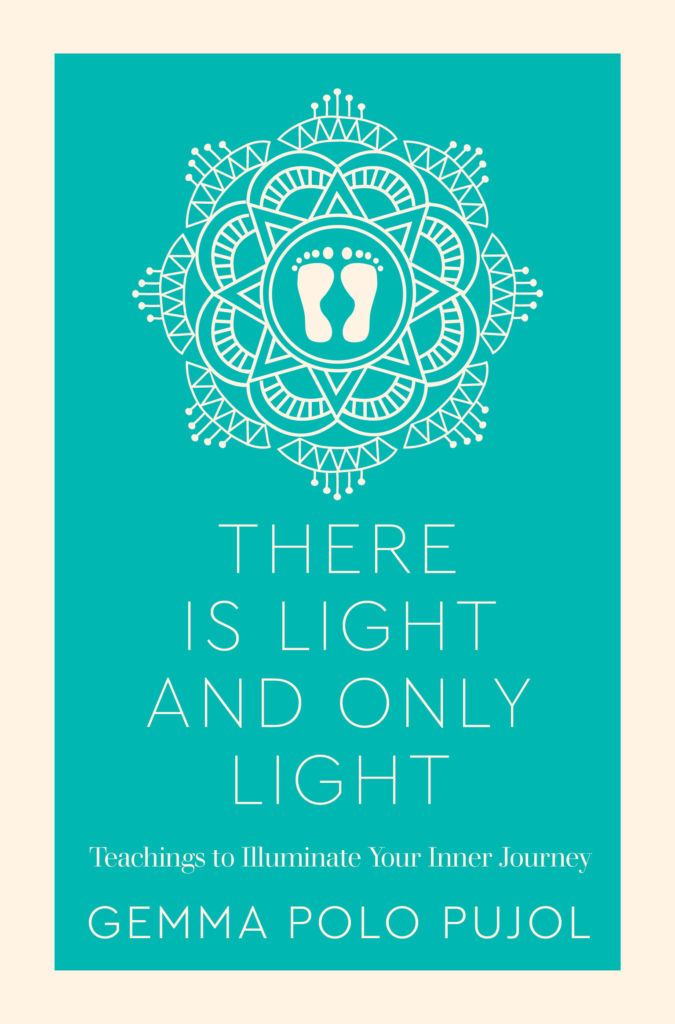 Find out more:
Born in Barcelona in 1976, Gemma Polo Pujol grew up with a fiery love for the Source of everything. Gemma has been teaching meditation retreats around the world since 2002 mainly with Open Dharma, a non-profit organization registered in India, Spain and the US, with a particular focus on women's retreats.
There Is Light and Only Light is the first book from a brand new voice in the form of Gemma Polo Pujol, whose crystalline and powerful spiritual teachings mark her out as the female equivalent of Eckhart Tolle.