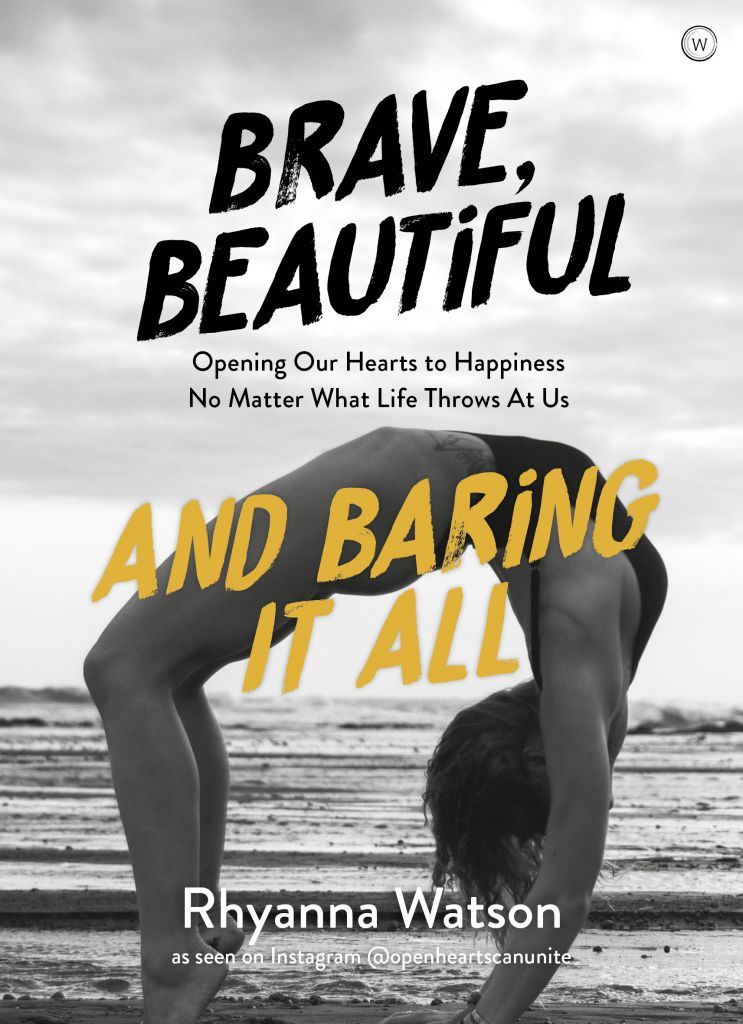 New author alert! We're incredibly proud and excited that next week we'll be publishing Brave, Beautiful and Baring It All, the first title from social media sensation Rhyanna Watson. In this empowering book Rhyanna – who has come out the other side of a lot of personal trauma both stronger and happier – explores how to strip back your protective layers and feel brave and beautiful again, ensuring that the rest of your life is the best of your life. 
We thought we'd invite Rhyanna to sit down for a good get-to-know-you chat so you have a chance to meet the woman behind the book – as well as finding out a bit more about the ethos of being brave, beautiful, and baring it all.
---
Hi, Rhyanna! Brave, Beautiful and Baring It All is an intimate look into your own personal experience, but also reveals more about ourselves and human nature than we might expect. Could you tell us a bit about what inspired you to write the book?
I was inspired to write the book because I had an opportunity to leave footprints in the sands for better tomorrows, for my daughter and for those that have suffered. I believe that what we do here on earth is what matters. I also believe that what we do here on earth stays long after we are gone – hence footprints in the sand. I always want to walk my talk, and I believe that being vulnerable is the best healing platform for shame, judgement, trauma and stories of challenge.
I believe we forget that we are not afraid. We are not afraid of heights; we are afraid of failing from them. We are not afraid of love; we are afraid of rejection, heartbreak. We are not afraid of vulnerability; we are afraid to be our whole selves (and what if the world won't like it?!) We are not afraid of soaring; we are afraid of not having control. But without risk, we end up on our knees begging for mercy from all that is.
I have always encouraged myself and others to take risks. When we do, we can see that the leap wasn't so big to begin with, and know that the world can see our smile again when we discover it was never so scary after all. I took a risk to show myself in the hopes that it can help others, and heal myself so I can be a better person for myself and my daughter.
Did the fact that Brave, Beautiful and Baring It All draws on your own traumas make it difficult to write some parts of the book, or were you able to find catharsis?
The book does draw on my own experiences, and it was very hard to write. At the same time it did become cathartic. I didn't expect it to be that way, but every time we share our experiences with others and tell our stories, triggers are exposed and new healing realms open. My life hasn't had one most challenging moment, it has many – like all lives – and many lessons. It's a work in progress as much as anyone's life, but I choose myself over my negative thoughts. I realise that it's not a bad life, it is just bad moments. I choose to find gratitude and love over complaining, because if I only have one life then I want to live a life of blessings, gratitude and love. All that takes is for my mindset to be trained, just like we train our muscles. I once lived a life that felt like hell, and never wish to return to that mindset.
Do you have a favourite section of Brave, Beautiful and Baring It All?
In all honesty, I don't have one favourite part. I love every component because each has possibilities to truly help others, and each section resonates differently with me each time I read it. As I reread my own work I notice that I learn something new each time, but most importantly, in moments of challenge, I find hope again to keep striving because I know I am a continued work in progress and always healing.
With almost a million followers (congratulations!) your Instagram is very popular, but it's no secret that social media and self-expression online can present its own challenges. Do you ever see the negative side of social media on your page, and if so how do you cope with that?
I think my Instagram is a reflection of like-minded souls both uniting in and building a community. I was honestly never aware of my numbers of my Instagram and YouTube accounts until I started writing Brave, Beautiful and Baring It All. I have always looked at it as a community of souls joining together, and I'm just reflecting each and every one of them.
Mixed reactions to my posts have made me see the world more clearly, and also see myself more clearly. I'm an ordinary girl, walking side by side with everyone else. In the last few years I've really learnt that the best version of myself looks like me being me, and owning that through the easy parts and the challenges. The more I'm honest with myself, and in turn the more I express my truth, the more I am able to be the truest and best version of myself and connect with myself and others.
I grew up watching people hiding who they were and seeing them, no matter how hard they tried to fit in, being judged for that. I no longer want to be a part of that cycle. My inner voice becomes my daughter's. If I want to change the world I have to start within, and in turn I hope that those closest to me will follow the example. Personally and professionally I want to create a life that unifies with helping others. I want to share my truths so people know they are not alone, to help them gain their health and their greatest wealth, and to inspire others to connect back to their truest self: love instead of fear.
What is the main message you hope that readers will take away from your book?
I hope readers will see that love is different to the big gestures that most people think it is. Love is not the problem, and neither is suffering. The problem is our patterns, our choices to respond and act with fear even when we are unaware we are doing it. Instead, we need to be responsible and choose to sow seeds for tomorrow instead of choosing fear. We need to let love fill us up from the inside so much so that it can't help but overflow into everything we do.
Life isn't about perfection or about 'having it all together'. It is about being human, and the art of suffering well. Knowing that if you take your true responsibility – the way in which you respond to everything – you will be able to create better tomorrows, by being your own hero. I hope people see that our best self comes from not chasing perfection, but by being on the journey of growth and showing up for ourselves – not for our fears or our excuses. True success is expansion in the process, not some faraway goal.
---
Find out more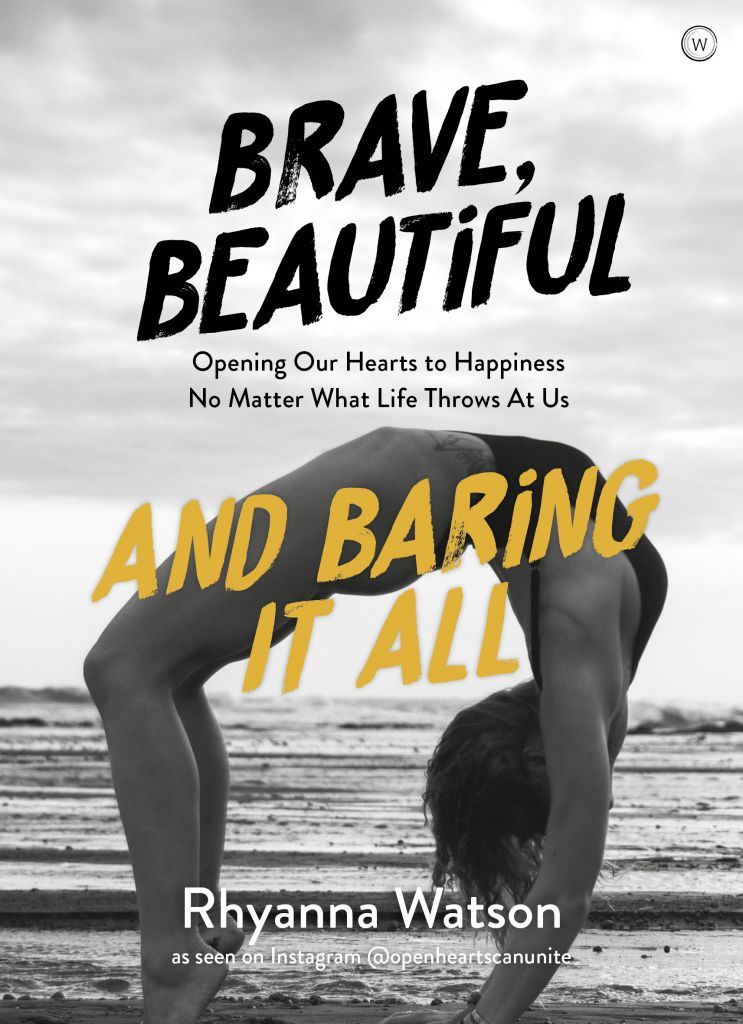 Rhyanna Watson is a yoga teacher, fitness trainer, Instagrammer and YouTuber, who has both played water polo and swam for Tasmania, competed in track at the Pan-Pacific Games and been a fitness director on cruise ships, and now offers a range of online wellness programmes.
Rhyanna has come out the other side of personal traumas including sexual assault, post-natal depression and a suicide attempt both stronger and happier. She loves engaging with her extensive online community, helping them find bravery to live in ways that they previously only dreamt of – fit, open, vibrant, contented, true to themselves and free. She is now keen to share her messages of love and empowerment in this book.
Brave, Beautiful and Baring It All: Opening Our Hearts to Happiness No Matter What Life Throws At Us (9781786782892) is available from 14th January 2020.