Saying Goodbye to Survivor's Guilt
This is an excerpt from What Doesn't Kill You: The Highs, Lows and Unexpected Gifts of Cancer by Rachel Haynes, available 10th March 2020.
My wake-up call needed programming twice. After one of our regular maintenance sessions, my acupuncturist said: "You can't spend this wake-up call doing what other people want you to do any more, Rachel."
I thought I had already learnt the lessons from my first wake-up call. I even questioned at the time how long wake-up calls last. I had my answer now, not as long as I had hoped.
Sometimes, in the amnesia that follows a serious illness, it's easy to forget about the wake-up call.
The biggest gift that I had been given was the gift of perspective and I am ashamed that I lost this quite early on when it came to workload.
But now again, through the miracle of new surgery and drugs, I am in the first generation of patients learning to live with unexpected survival. However, I'm lacking a road map and in danger of returning to my old ways, because quite honestly it's easier to brush things off, avoid the inevitable judgement and anger that can come from speaking too honestly about early survival. I need to stop censoring myself because I feel my voice is no longer valid. Concentrating on the funny bits as I did in phase one when physically trying to survive was a lot easier.
To help this time around, a new Zeitgeist is also in town. The beginning of an exciting new moment challenging everything about the narrative of ageing has landed in my lap like a freshly wrapped gift. Thank you Zeitgeist. So just when I have a very real chance of growing old, ageing has gone all aspirational!
Compound that with the news of a sudden empty nest as both children left to go to university within a few months of each other, and I suddenly have more "now" on my hands, a horizon to aim for and an endless hole in my heart where the nurturing used to be. There's much to learn.
Facing death has weakened and strengthened my family and myself in equal measure, and I have dedicated the second part of What Doesn't Kill You to exploring the messy legacy of survival. From having to confront some of the truths I thought I knew first time around to figuring out what I am meant to do next. One thing I do know for sure is that keeping hold of perspective and gratitude is not a quick fix or a one-off programme – it's for life.
So I've done a bit of a spring cleaning in my mind to make this a little less messy, you know the type you would when you're inviting a new friend over. Oh that old thing, you say, no I've had it for ages!

But first I need to get past survivor's guilt.
My first book The C List touched on it but not deeply as
it was much easier not to and to be honest I hadn't really begun the business of processing everything before the book was out. But I am aware that I was and am still suffering from survivor's guilt. I feel such an overwhelming gratitude to be alive when others have died and are dying, and that I feel I have no right to complain about anything.
When I was given my last all-clear, I wrapped up my blog, and this excerpt from the post in January 2019 more than anything explains exactly what I was feeling at that moment:
I am going to have to think about what this means. I don't have the luxury of wallowing. I am ashamed to be anything other than grateful. In some ways facing death was an amazing gift. It got my attention and turned it toward things that were more important and I don't want to lose that feeling.
You know when you get an unexpected Christmas gift of money and before long it's absorbed into your bank account and leaves no trace of where it went. Well, I'm scared of that. So I'm putting it out there now, publicly to stop me falling back into the same old, same old.
I understand the need to do something meaningful with all this. But I'm not at all sure what that is yet. But if anyone has suggestions, wants to join me, I'm really open to anything! Please do get in touch.
In the meantime, I probably need to be a bit more financially savvy as my son would say.
Living on borrowed time was expensive. Finding out I'm now cured has also been expensive!

"Mum, you want to give people hope, don't you?" said my daughter, Lois. "Of course, that's ALL I want to do."

"So you need to be honest. It doesn't stop you being grateful, but it might also just help people who are also feeling the same thing and don't dare to admit it. And besides do you think Kate would have wanted you to feel guilty?"
It's time to stop apologizing for being alive. And let go.
Find out more: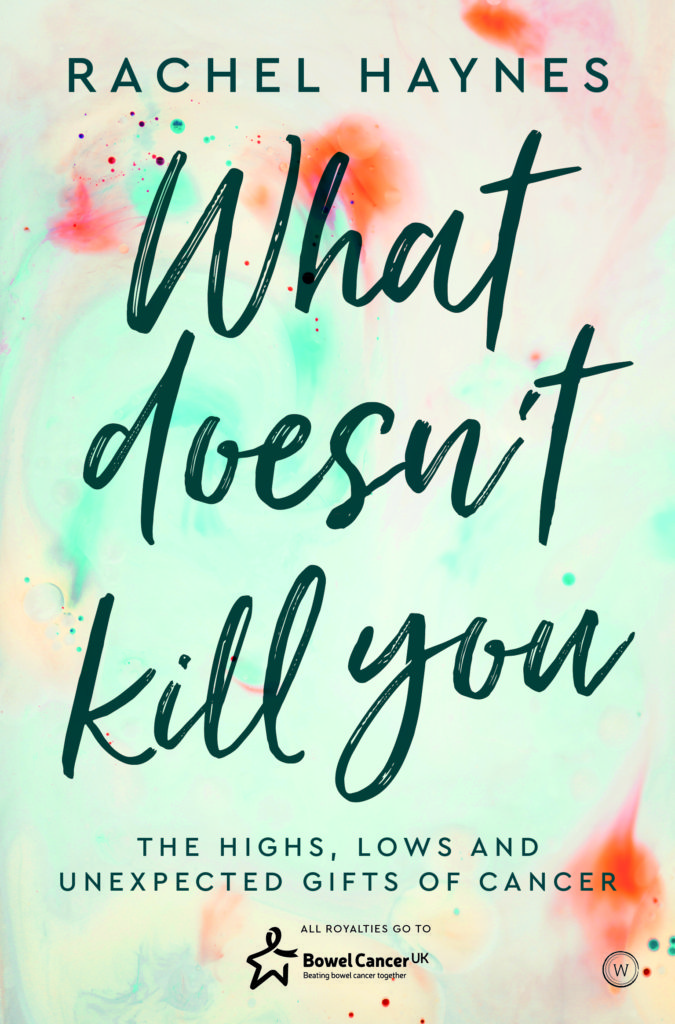 Rachel Haynes survived bowel cancer, not once, but twice. There have been many unexpected consequences… this is her story. Exploring the ups and downs of treatment with sensitivity, humour and brutal honesty, Rachel reflects on the psychological impacts of survival not only on herself but on those who have supported her.
What Doesn't Kill You is a funny and enlightening story about physical survival and then the messy psychological legacy of unexpected survival. Of wake-up calls that failed and an overwhelming urge to finally make sense of a life that Rachel was not expected to see.