Use the Science of Laughter for Total Wellbeing
Laughter is incredibly important for our mental and physical health, our prosperity, our relationships, our careers – in fact, every aspect of our lives. But most of us just laugh coincidently, without any thought about its power. Lesley Lyle thinks differently because the simple act of laughing can make us feel better, even if we think that we've got nothing to laugh about.
Based on scientific evidence, Lesley Lyle shows you how laughter is one of the easiest things you can do to promote healing and well-being. Experience the benefits of chuckling to lower blood pressure; improve concentration; alleviate anxiety, stress and depression and create a sense of connection and wholeness.
Drawing inspiration from Laughter Yoga, a movement that uses laughter and breathing exercises to bring about amazing changes in the health and well-being of thousands of individuals, Lesley reveals:
Fascinating medical and scientific evidence that proves the benefits of laughter for body and mind
Simple daily exercises to encourage more of it in your life
How learning to laugh for no reason can bring about a sense of greater connection, joy and meaning in your life
Throughout Laugh Your Way To Happiness, Lesley's simple and fun exercises that will help you see opportunities for mirth in the most unexpected places, from getting up to work to finishing a difficult meeting.
This is a book that will delight, as well as inform – most importantly, it will positively change your life.
About Lesley Lyle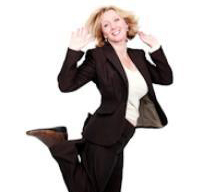 Lesley Lyle is a Clinical Hypnotherapist, NLP Practitioner and Positive Psychology Coach. She also works part-time as cabin crew for British Airways and is mentor for the Prince's Trust. She founded Laughter Business, which provides training to help people improve their physical health and psychological well-being through the power of laughter.